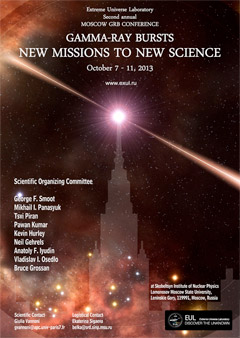 2nd Extreme Universe Laboratory Workshop on Gamma-Ray Bursts
Dates: 7 — 11 October 2013
Place: Skobeltsyn Institute, Lomonosov Moscow State University, Russian Federation
The Extreme Universe Laboratory held the second annual Moscow Gamma-Ray Burst Workshop on the 7 — 11 of October 2013
The workshop has covered all aspects of gamma-ray burst and related science. The purpose of the meeting was to further international communication of work on GRBs as well as to encourage a collaboration with Extreme Universe Laboratory scientists and students.
Short trailer:
Summary of the talks:
Scientific Organizing Committee:
George F. Smoot
Mikhail I. Panasyuk
Tsvi Piran
Pawan Kumar
Kevin Hurley
Neil Gehrels
Anatoly F. Iyudin
Vladislav I. Osedlo
Bruce Grossan
Prof. George F. Smoot, EUL director, has headed the SOC.
Scientific Contact: Giulia Vannoni ‐ [email protected]
Logistical Contact: Ekaterina Sigaeva ‐ [email protected]